Tank Removal and Replacement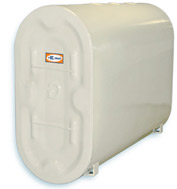 Oil tanks are well built and durable, but they all require replacement eventually, and
it's vital to replace your tank while it is still sound
. W.F. McCoy specializes in removal and replacement of heating oil tanks. We inspect, test and evaluate existing tanks and recommend a proactive approach to protect your home, your property and the environment.
The only correct time to replace a tank is near the end of its life but while it's still in good condition, and every oil heat customer should have a realistic plan regarding tank replacement. The best place to begin is with an inspection of your existing tank. W.F. McCoy's tank experts evaluate both aboveground and underground tanks and provide a sensible plan for tank replacement. If your tank does not require replacement now, you'll gain peace of mind knowing it has been evaluated. If the tank is ready to be replaced, we'll help you select a new environmentally friendly model.
Tank designs have come a long way in recent years, and W.F. McCoy has chosen the best-designed, most durable tanks for our customers. We perform meticulous installations in accordance with the manufacturer's specifications, so your new tank will have a long, safe lifespan.
Removing an old tank requires care and attention to detail, and you can count on our experienced team to think of everything. If we're removing or abandoning an underground tank, we'll use clean, high quality fill and restore the surface with care so that the original grade is retained.
To request an evaluation of your tank, please call us today or
contact us online
.